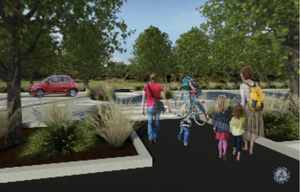 Forget the NSA.  Disregard what you have heard about the FBI.  The CIA, too.  Congratulate your region's MPO for accomplishing the most without a single news headline.  Impressive considering topics like "funding" and "infrastructure" can be easy media targets.
Cities and counties are well defined with political scenes just as hot as in D.C.  Regions, however, are more conceptual.  Adding "greater" to a metropolitan area forms a hazy boundary around a dense population.  Enter the metropolitan planning organization.  MPO's to give definition and organization to the urban haze.  They are federally mandated and funded transportation policy-making organizations.  Regional cooperation in transportation planning is the end game.   Federal-Aid Highway Act of 1962 created the concept.  Current criteria stipulate a population greater than 50,000 people is eligible for an MPO.
The MPO hosts open forums for municipal representatives to nominate and prioritize transportation infrastructure improvements.  Transportation and planning professionals administer metrics and structure, so all the efforts culminate into tangible improvement.  The best part is that much of this happens without a single news mention.  This is pretty freakin' amazing.  Dozens of humans actually gathering and agreeing on something to benefit thousands.  Right on.  Keep it up, MPO.  We could use more governmental organizations like you.